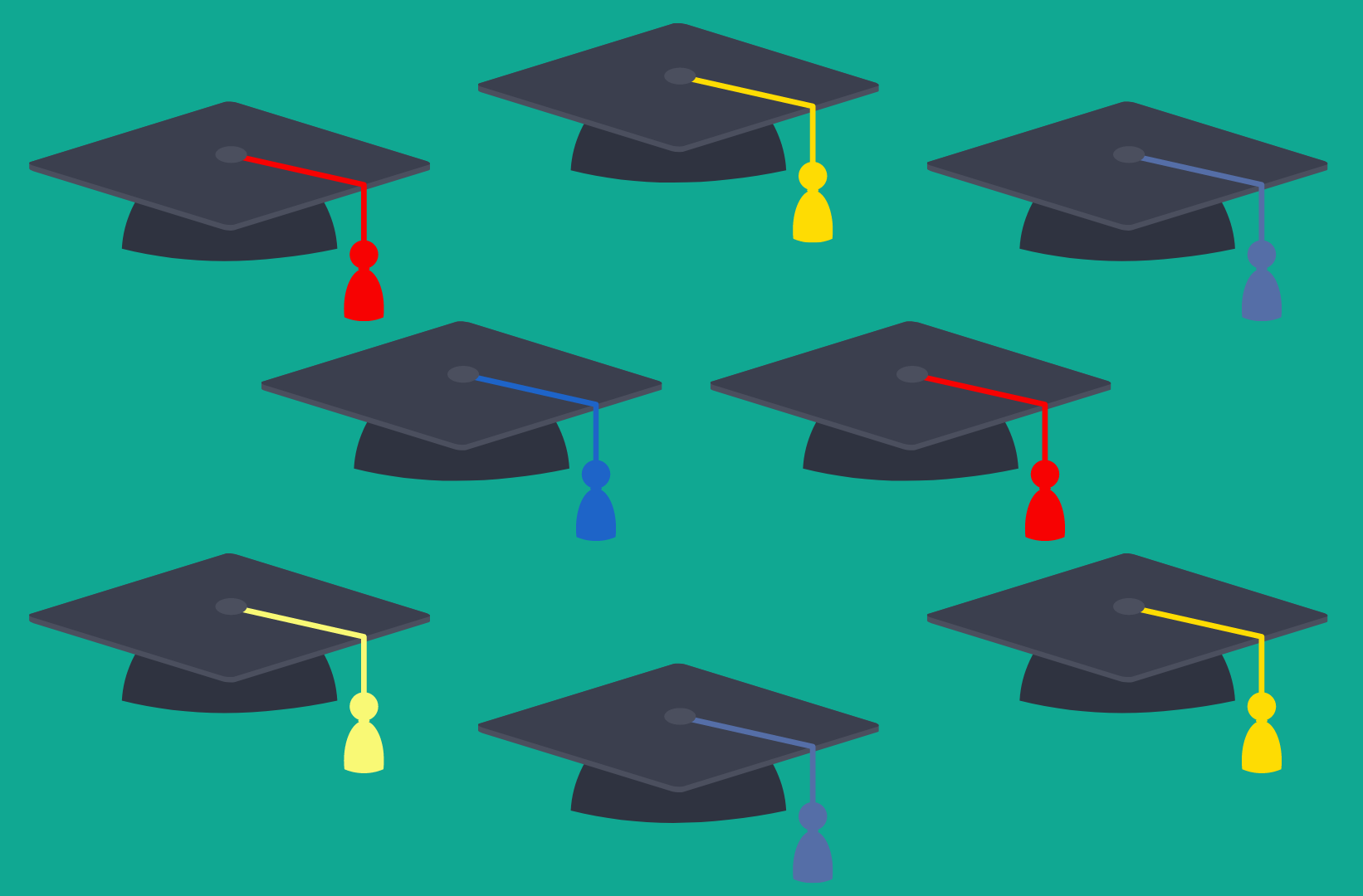 Academia
Advancing Research for a Better World
While many universities excel at producing groundbreaking research, they often struggle to bridge the gap between their research and its practical applications in the business world.
At MTI², we are proud of our academic roots and committed to help academic institutions (1) increase the societal impact of their research, (2) have a higher spillover of ideas to businesses, and (3) train their people on a more diverse set of competencies.
Our two-decade-long quest for the 'True North' of academic research
Throughout his career and work, our founder, Prof.dr. Stefan Stremersch, stresses the importance of symbiosis between research and practice to discover managerially relevant insights (Roberts, Kayande, and Stremersch 2014; Stremersch and Winer 2019; Stremersch, Winer and Camacho 2020).
It all began with Alcatel-Lucent's Bell Labs' "Stretch Your Mind Contest" in 2006, where Stefan designed a program to accelerate the go-to-market of the best ideas proposed by Bell Labs' engineers and scientists. Since then, many other clients followed. We draw on these two decades of experience with transformative innovations in fields such as technology, medicine, mobility, and sustainability to help bring academic research to the market.
Academic Creativity Labs (ACL)
We launched Academic Creativity Labs in 2020 to offer researchers and academic institutions a new set of trainings based on our decades of experience both in academia and in science-driven organizations.
Specifically, our team at MTI² is committed to developing researchers' competencies through innovative training programs and collaborative initiatives aimed at building a stronger skill set among researchers – that go beyond the skills currently emphasized in doctoral programs and academic seminars – and at helping academic institutions bring accelerate the valorization of their academic research.
Building a Community of Impact-Driven Scholars
Beyond upskilling, with our programs and initiatives we strive to create a community of scholars who are well-equipped to tackle real-world challenges and generate innovative breakthroughs. We are extremely proud and grateful to have a stellar community of 'ACL fellows'. With scholars of such caliber as Prof.dr. Patrick Van Kenhove (Ghent University), Prof.dr. Mirjam Knockaert (Ghent University; TU Munich) and Prof.dr. Bart Larivière (KU Leuven), and Prof.dr. Ivan Guitart (EM Lyon) on board to help steer the direction of Academic Creativity Labs, we are sure the quality and impact of our programs and initiatives is guaranteed. Our alumni community is very much alive and growing. So far, we have held trainings and workshops internationally for faculty and doctoral students of institutions such as Ghent University, UC Louvain, U Hasselt, Vrije Universiteit Brussel, IÉSEG, Grenoble Ecole de Management, WWU Münster, Ben-Burion, University of the Negev, Tel Aviv University, IESE Business School, BI Norwegian Business School, Copenhagen Business School, U. Groningen (RUG), Vienna University of Economics and Business (WU), U. Autónoma de Madrid, U. Porto, Hanken School of Economics, U. Liège, U. Namur, Dutch Science Foundation's (NWO) CatchBio, ESCP Europe, U. Ljubljana, Tampere University, Maastricht University, Jyväskylä School of Business and Economics, Metals Consortium (Ghent U.), etc. You can learn more by visiting www.creativitylabs.eu.
Trainings for PhDs, post docs & junior faculty
Our training programs for PhDs, post-docs, and junior faculty focus on five key areas: ideation, maturation, teamwork, co-creation, and selling research. We aim to provide young researchers with a diverse set of competencies that go beyond what is typically covered in academic seminars and doctoral programs.
Our ideation training helps researchers produce more and better research ideas, while our maturation training transforms early-stage research ideas into validated projects. We also emphasize effective interdisciplinary and international teamwork and co-creation with businesses, as well as selling research to market players help research find its way to the market faster.
Overall, our programs equip young researchers with the tools they need to make a real-world impact. By bridging the gap between academia and industry, we aim to create a community of scholars who are well-equipped to tackle real-world challenges and generate innovative breakthroughs.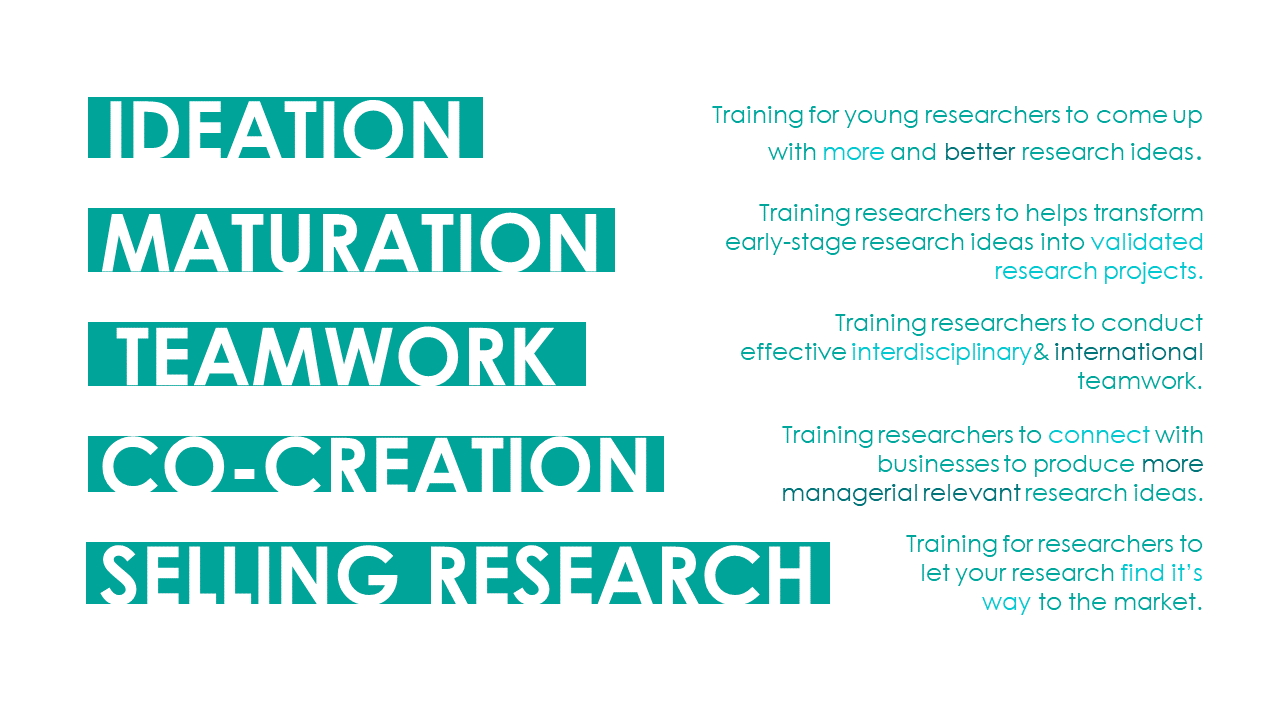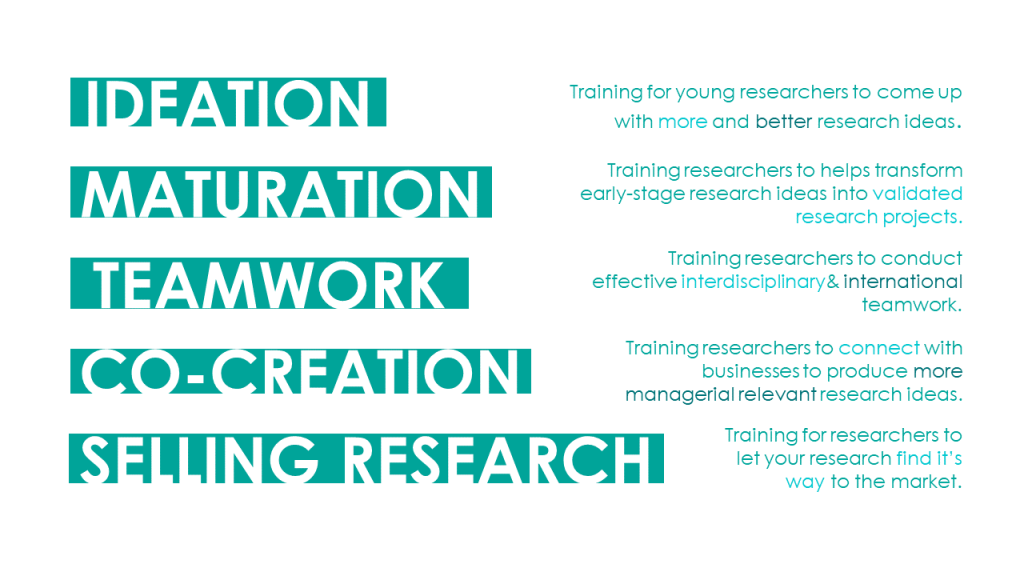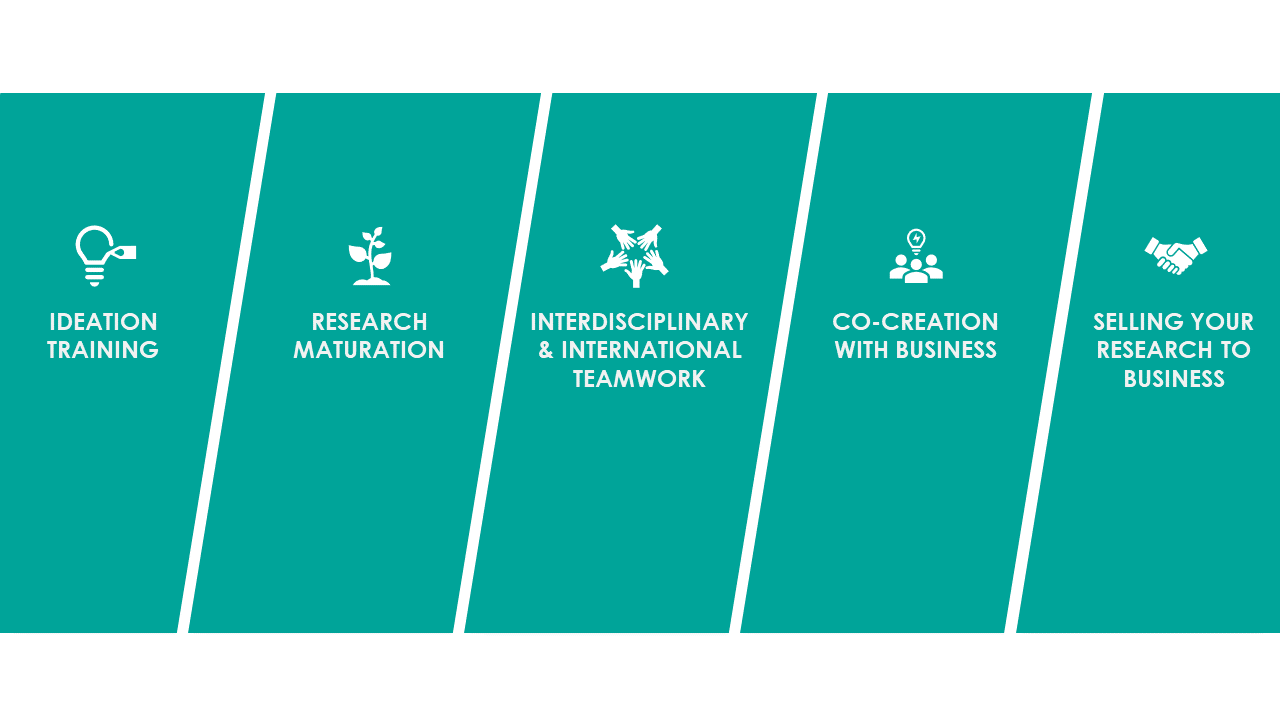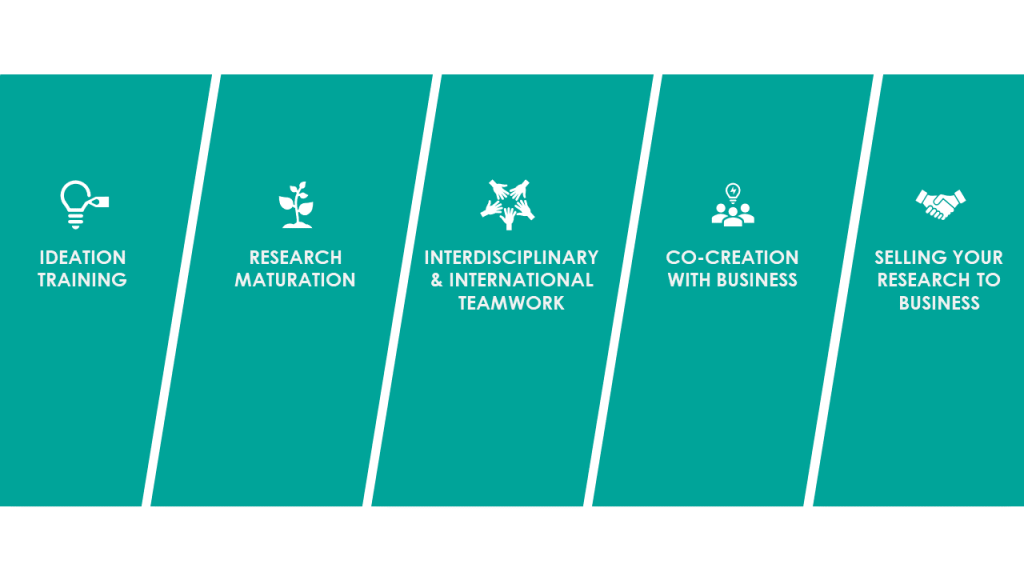 Discover some examples of our offering
Workshops for collaboration consortia
Our workshops for collaboration consortia offer specialized training to university and firm consortia on various topics that are crucial for successful partnerships. These trainings are specifically designed to enhance collaboration between partners, while focusing on key areas such as co-creation, valorization, validation, and maturation.
Our co-creation workshops are centered around setting up a joint research agenda with business partners, which fosters collaborative innovation. We also provide workshops on valorization to help participants understand the economic potential of their ideas and how to best capitalize on them. Our validation workshops focus on determining the market potential of an idea, while our maturation workshops empower scientists to mature their patents and projects into concrete business opportunities.
Discover some examples of our offering
Below a selection of academic work by our team and academic collaborators, published in top academic journals. Click below to directly access the articles.
How can we help?
Let's bridge the gap between research and practical applications together!
If you haven't found what you're looking for, reach out! We customize our offering to our client's needs.