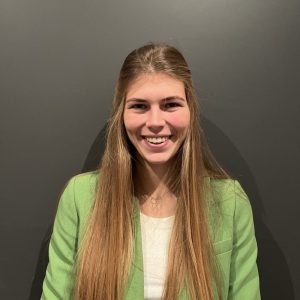 Amber De Smit is an associate at MTI² and is passionate about innovation and marketing. First, she obtained her bachelor's degree at Ghent University where she discovered her interest in innovation. Because of this, she decided to follow her master's degree at the University of Antwerp with a minor in innovation and a major in finance.
During her education, she opted for an internship at a funding agency for which she improved a business process with a very considered proposal and increased efficiency for the company. At the end of the year, the university of Antwerp awarded Amber for her great impact in this internship!
She is already working on several projects in different industries. She supported her colleagues with the digital marketing planning of the B2B construction company, Euromat. Meanwhile, she has made a shift in this project and is focusing on the financial reporting of sales figures. She has already been active in different innovation projects for Dechra and Aliaxis. For Aliaxis she supported the innovation project by assisting in the research department. On top of this, she helps in the business development of MTI². For example, she is currently working on the online training courses we want to offer our clients soon. She is very excited to see what the future at MTI² will bring!