Are you passionate about driving innovation across several industries? Do you thrive on thinking outside the box, embracing challenges, and going the extra mile? Join our dynamic team in Stekene. Embrace challenges, unleash your potential, and enjoy competitive compensation and rewarding perks.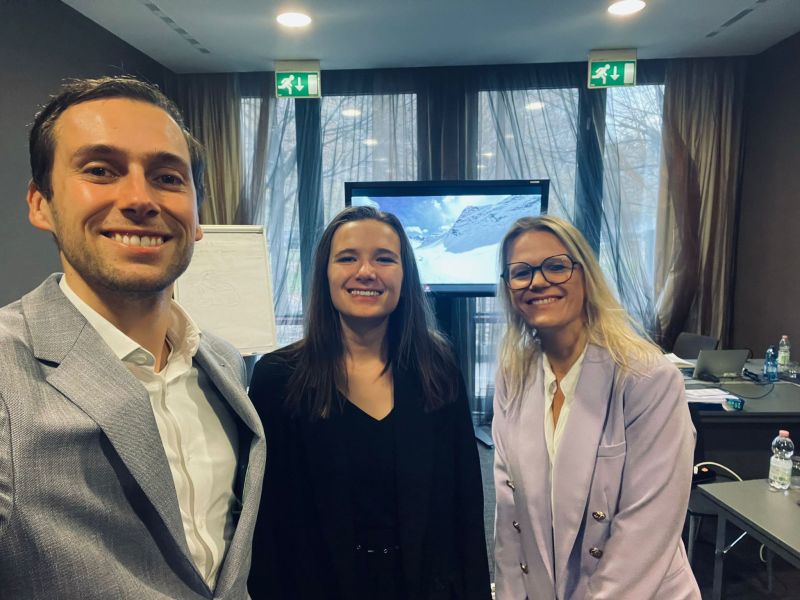 Join our expanding dream-team that works in the field of Innovation and Marketing consulting and training. You will assist leading companies as they shape the future through customer-centric innovation and commercial excellence. Together with our clients you will work on exciting and important topics such as innovation in healthcare, innovative business models, and much more
About Us:
MTI², founded by prof. dr. Stefan Stremersch, goes beyond academic offerings, providing practical solutions grounded in rigor and quality standards. Our team leverages expertise to drive tangible business results, enabling individuals and firms to transform innovation potential into commercial success. Looking back, the very first associates of MTI² were actually graduated doctoral students of prof. dr. Stefan Stremersch, and they are still part of the team today. That says something about our culture!  
Clients often consider us their best-kept secret due to our unique approach as consultants. We bring a robust process and exceptional talent to develop capabilities and leverage competencies. Honesty, transparency, respect, and commitment are integral to our client relationships. Discover more about us.
Why Choose Us:
At MTI², we value your personal and professional growth. We empower our team members to unleash their full potential by offering continuous learning and development opportunities. You'll have access to a wide range of initiatives to expand your knowledge. We understand that a healthy life is essential, which is why we offer fitness coaching and in-office yoga classes to support your well-being. At MTI², you will thrive in an atmosphere of collaboration, innovation, and excellence.
Your responsibilities will include:
Strategic Innovation Planning:

Collaborate with clients to understand their business goals, challenges, and opportunities.
Conduct comprehensive research and analysis to identify market trends, consumer insights, and emerging technologies.
Develop innovative strategies and roadmaps to guide clients in achieving their innovation objectives.

Idea Generation and Concept Development:

Facilitate brainstorming sessions and workshops to generate creative ideas and solutions.
Work closely with cross-functional teams to refine ideas and transform them into actionable concepts.
Conduct feasibility studies and market validation to assess the potential of innovative concepts.

Innovation Implementation and Project Management:

Develop detailed project plans, timelines, and budgets to ensure seamless execution of innovation projects.
Collaborate with internal teams and external partners to bring ideas to life.
Monitor project progress, manage risks, and make data-driven adjustments to achieve desired outcomes.

Client Relationship Management:

Build strong and trusted relationships with clients, serving as a strategic advisor on innovation matters.
Actively listen to client needs and provide tailored recommendations to address their unique challenges.
Deliver compelling presentations and reports to communicate project updates, findings, and recommendations.

Thought Leadership and Continuous Learning:
Stay updated on the latest trends, best practices, and emerging technologies in the field of innovation.
Share insights and thought leadership within the organization and contribute to innovation knowledge sharing initiatives.
Actively participate in professional development opportunities, such as conferences, workshops, and training programs.
Qualifications and Skills:
Master's degree in a relevant field, such as Business, Engineering, or Innovation Management.
Proven experience in innovation consulting or related roles, with a track record of delivering successful innovation projects.
Strong strategic thinking and problem-solving abilities, with the capacity to analyze complex challenges and develop innovative solutions.
Excellent communication and presentation skills to effectively convey ideas, influence stakeholders, and build lasting client relationships.
Proficiency in project management methodologies, with the ability to handle multiple projects simultaneously and meet deadlines.
A passion for innovation, creativity, and an entrepreneurial mindset.
Ability to work collaboratively in diverse teams and foster a culture of innovation and excellence.
Fluency in English, both written and verbal. Additional language skills are a plus.
Rewards and Perks Await:
We believe in rewarding our team members for their hard work and dedication. In addition to a competitive compensation package, including
A company car
Meal vouchers
Expense vouchers
PC
Comprehensive collective insurance benefits,
Free snacks and beverages,
Engaging team dinners,
Fitness coaching,
In-office yoga classes, and a variety of recreational activities.
Join us today and let's shape the future of innovation together!
Everything you need to know regarding your application process
You apply to the vacancy
Our first contact
Second interview
Contract 
Start your job at MTI²
At MTI², we prioritize the cultural fit between you and our organization. We believe it's crucial for both parties to feel a connection. That's why we have a unique approach to our job application process. We encourage you to have conversations with our colleagues instead of going through an extensive application procedure.
We look forward to hearing from you!